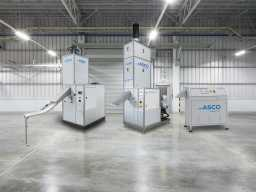 Dry Ice Boom. New Business Chances. New Technologies
In Web-Meetings > All
Location:

Live webinar

Date:

upon request

Language:

English
This webinar gives participants an overview about the latest developments in the dry ice industry. Recently called the "white gold", dry ice gains popularity due to transportation of the COVID19-vaccine.

What are the newest dry ice production and automated packaging solutions? What is the market demand and how can you respond to it?

See table of content:

1.0 About ASCO
2.0 Dry ice facts & target groups
3.0 Niche market or dry ice boom? Effects of Covid19
4.0 Dry Ice Technology: Production & Packaging
5.0 ASCO Digital Solutions
5.1 ASCO Carefree: New rental concept
5.2 ASCO iSeries: New remote services

We are looking forward to discuss newest insights together with you!